For those of you that own Broncos, you know how fat and tall those rear quarter panels can be in tight trails. I can pick out each piece of damage on mine and name the trail (i.e. Pritchett Canyon, Highway to Hell, Axle Alley, Predator). Jeeps have a simple rear quarter that manufacturers have made aluminum and steel to protect them. Broncos have compound angles and numerous body lines that have to be followed. So any stout metal would be difficult to shape. Awhile back Brian Wickert from the EBML posted a pic and I noticed he had diamond plate steel wrapping his rear quarters. I bugged him for a set for a while but he said it was so difficult that they did not want to make any more of them. Others on the EBML and EBE stepped up and tried to find machine shops that you could reproduce these items. Everyone eventually gave up.

Then one day while browsing through the Wild Horses 4x4 catalog I saw they now offered them! I had won a gift certificate in Moab and decided to use that to get a pair of their "Quarter Panel Guards".

A couple of things you need to know before ordering these items. Broncos are from 25-36 years old and come from many backgrounds. The tooling for their body panels are not perfect every time. Also, these are rugged trucks and have been subject to some extreme adventures! What does this mean? Well, these panels are bent to match a specific panel used as a template. These are not an exact fit at first!

Below I will detail the steps needed to conform Wild Horse's panels to fit my trail worn Bronco.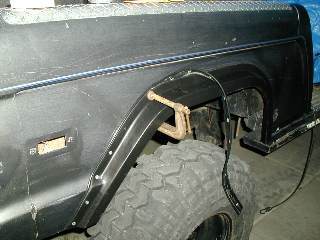 My first task was to finish the install of my Wild Horses 4x4 Gorilla Flares on the rear. You need to remove the side markers also for the quarter panel protector install.
Once all the measurements were completed, we screwed down the flare. Now to lay the panel protector over the area and get the measurements to cut around the flare, my bed caps, and bobbed fenders.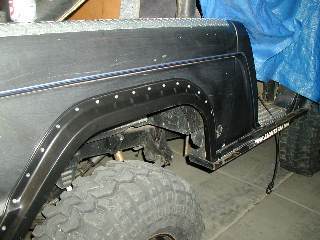 After the cuts were made, time for another test fit. It was noted that the plate now fit around the flares and the bed caps. But the vertical and horizontal fitment was not there.
Whenever I would get the top edge to sit correct, the bottom would buldge out. I took a 2 lb hammer and started molding the shape to fit better. I laid the metal over a 8"x8" piece of wood for leverage.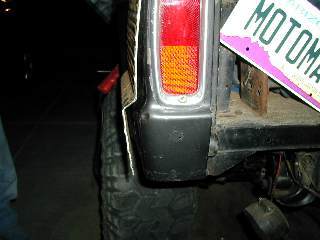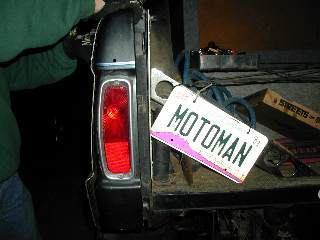 Starting to get a little better here. Now that the top half is fitting, need to bang on the bottom more.
Once the panels were beat into submission and were real close to the lines of the truck, I made a trip to the hardware store for sheet metal screws. I drilled the diamond plate one size bigger then the screws. I then set the plates against the quarter panel and marked where to drill the holes in body. Make these holes smaller then the screw size so they grip well. As I tightened down all the sheet metal screws I noticed the body panels just sucked into the plate and fit much tighter.
I then took them back off and primed and painted them to match my aluminum diamond plate bedcaps. Below is a picture of the final product!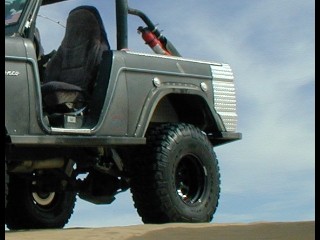 I wanted to take a second here and personally thank Jim from Wild Horses 4x4 for calling me and making sure everything went ok with the install after he read my post on Pirate 4x4 about my initial difficulties! Wild Horses customer service is #1 in my book!
Property of Greg Banfield and
AllOffroad 4x4 and Off road Magazine
And may not be reproduced without the
Expressed written permission of
Greg Banfield and AllOffroad.com
Copyright © 2001 All rights reserved